"Long after I've left South Africa, Riversong Farm will linger among my fondest memories. A winding dirt rollercoaster flecked with rocky outcrops, grinning dassies and patchwork farmland vistas runs alongside the Goukou River, coiling back towards the N2, away from the Still Bay coast. Some 12km along this track lies Piers' place, a supremely chilled-out farm (some friendly sheep here, a pic'n'mix orchard there) where nature gives you a great big hug. The child in me whooped for joy when I dropped down the hills, through the fynbos, towards the river and onto the farm. The adult in me did too… only with a little less grace. Two super-rustic log cabins sit happily side by side on a dewy, long-grass lawn, peeping through bushy reeds across the wide lolling river, the soothing scene occasionally fleetingly broken by a laughing water-skier, a swooshing rowboat, the splash of a golden retriever (or two) leaping off the jetty into the cool swimming water. It's a scene so soothing that Wilbur Smith penned a pile of novels while residing just three farms down. Piers – the epitome of a laid-back Englishman who swapped morning commute for morning kayak – built and occupies the rather more plush Kingfisher's Manor just a short pitch away. But he and his golden stick-chasers vacate should your party wish to commandeer the whole affair. And with a verandah and braai that size, every day here is a party. You'd be a fool to leave South Africa without sampling this exquisite patch of river magic." GREENWOOD GUIDES
Kingfisher is ideal for one or two families. The large farmhouse sits right on the river's edge. It is fronted by Willows, Milkwoods, Wild Olives and reeds guaranteeing privacy and amazing birdlife. It is spacious, has high ceilings and old wooden floors throughout and has beautiful views of the river and farm.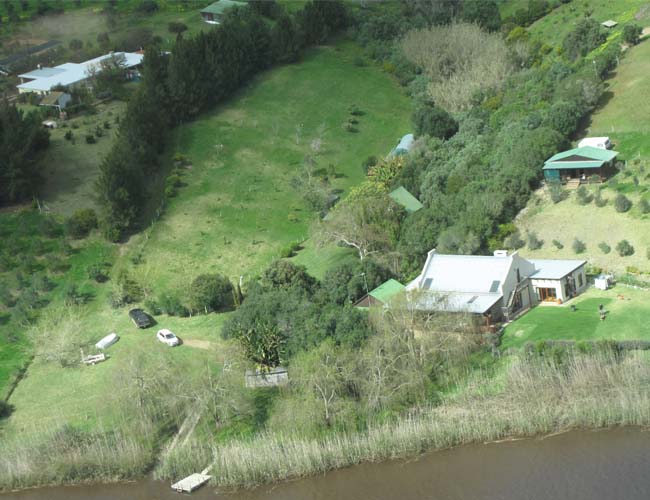 The Thames & Orange chalets are side by side. Thames is ideal for a couple or a family with younger kids. It is a fully fitted rustic, clean log cabin with modern appliances and is a hop and a skip from its stoep across the lawn to the jetty and river.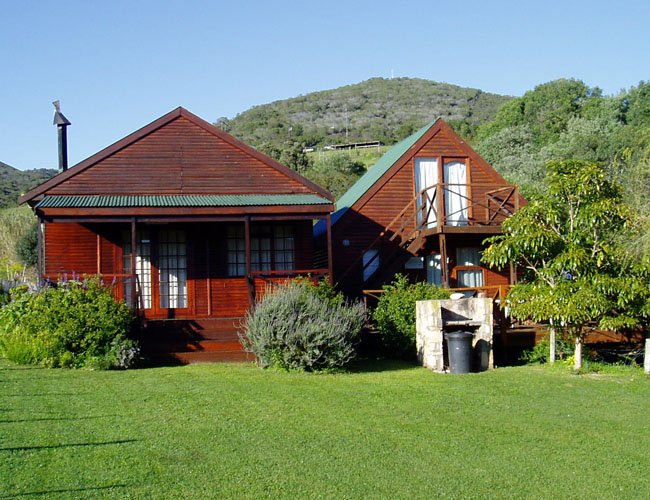 Orange is perfect for a family. Like Thames, it is a fully fitted rustic, clean log cabin with modern appliances and is a hop and a skip from the wooden deck to the jetty and river. As the Orange & Thames chalets are next to each other they are perfect for larger families to hire out both together.